Dragon Park and Kinder-Skiland
Dragontastic kids' offers on Zell's landmark mountain
Your kids would like to experience dragontastic adventures in winter? Then the Schmittenhöhe in Zell am See is the perfect holiday destination for you! Schmidolin, the Schmitten dragon, is always right by your side – and knows exactly how to impress young skiers …
Winter fun with the Schmitten dragon in Zell am See 
The Schmittenhöhe in the Pinzgau region is one of the most family-friendly ski resorts of the Salzburger Land region – and that's no surprise. The primary reason for it is Schmidolin, the coolest dragon far and wide! You'll meet him at countless attractions created specifically for families all over Zell's landmark mountain.
"
"Where little slope bunnies have their big moment"
– that's the motto on the Kidsslope at Glocknerbahn. It's perfect for kids who have already gathered some experience on the slopes. Swooshing through archways, curves and tunnels while benchmarking themselves against peers? The Kidsslope in Zell am See – quite literally – makes young skiers' hearts beat faster!
Kinder-Skiland
With the help of Schmidolin, kids playfully learn how to ski on Zell's landmark mountain – preferably at the Schmitten dragon's Kinderland. It can be reached with the "Schmidolin's Dragon Tunnel" magic carpet. That's how the adventure begins even before the actual skiing experience starts. Once they've reached the Kinderland on the Schmittenhöhe, tiny skiers can get excited about a diverse "playground" in the snow including an undulating slope and mini slalom course.
Whoever needs a break, can just plop down on one of the many seating options. It couldn't be more fun – and largely responsible for that are Schmidolin and his dragontastic friends!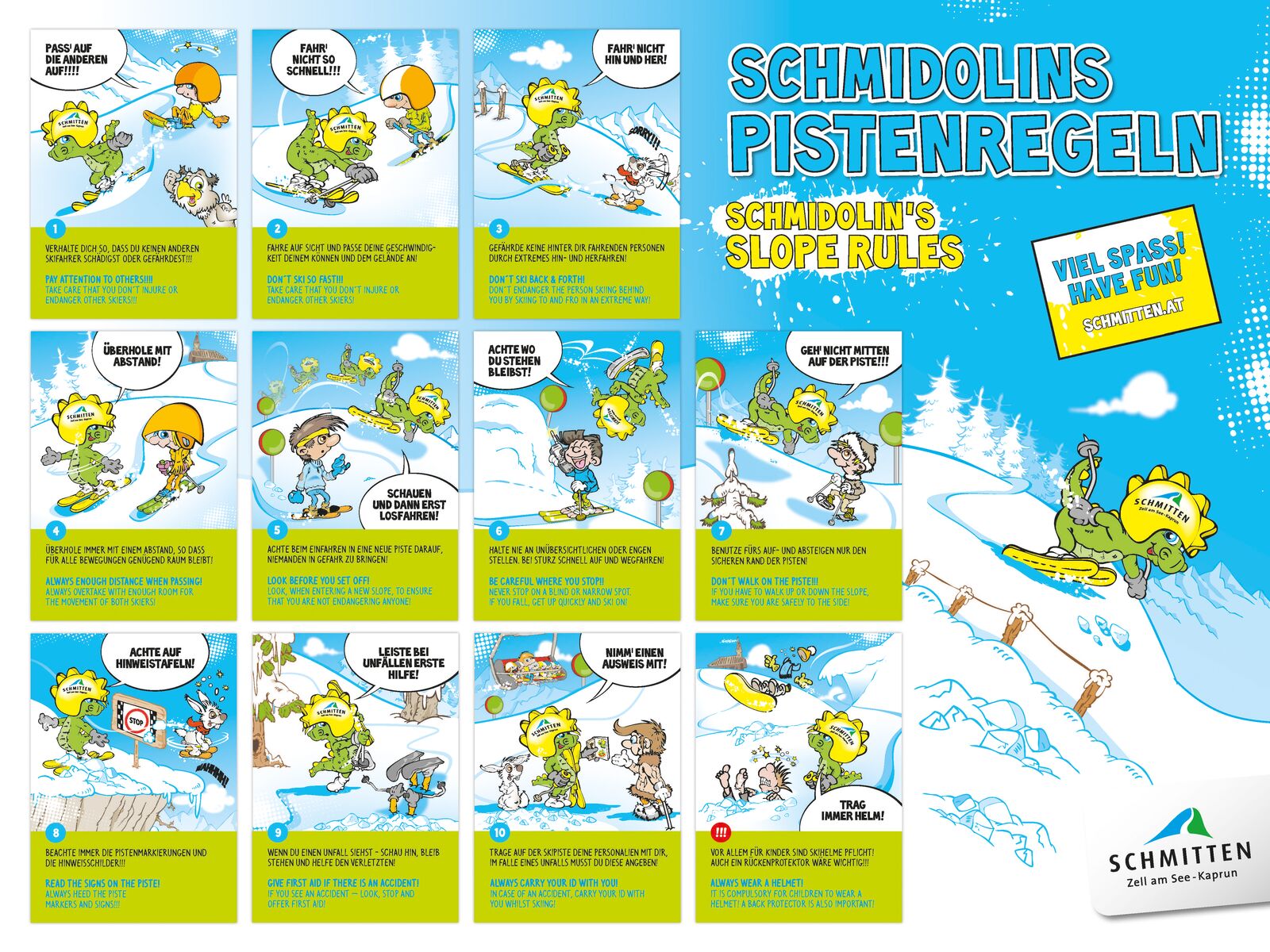 Schmidolin's Code of Conduct on the Slopes
To make sure that everyone can enjoy their time on the slopes, there are a few rules to follow. Schmidolin explains them in a particularly child-friendly way – because safety is of utmost importance at his Dragon Park and Kinder-Skiland.
Download Schmidolin's Code of Conduct on the Slopes right away!