Hiking on the Schmittenhöhe
A diverse hiking paradise in the Pinzgau
Your backpack and hiking boots are packed? Then let's go – time for the Schmitten! Hiking fans and aspiring hikers can get excited about a real El Dorado in the Pinzgau. Read more about your hiking summer in Zell am See-Kaprun!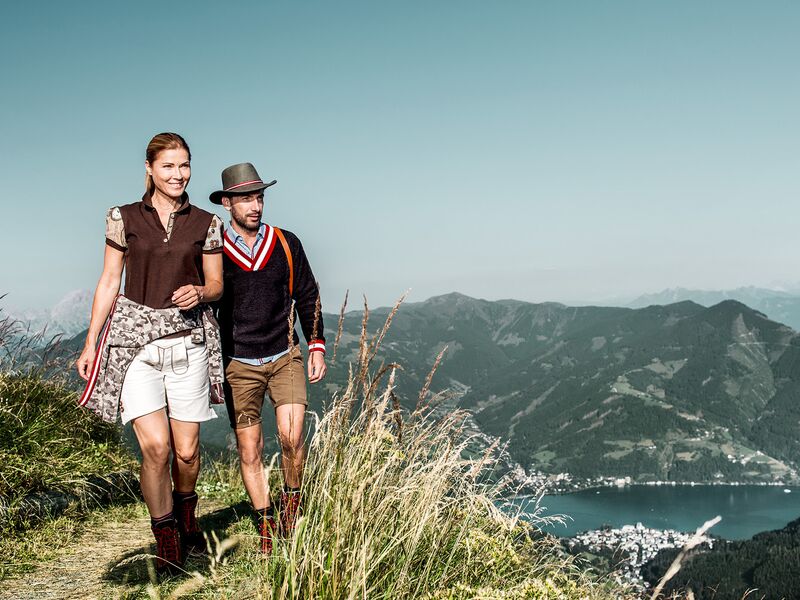 The Schmittenhöhe in Zell am See for hikers
A family-friendly walk, a themed hike of several hours or a challenging high-alpine trail – Zell's landmark mountain offers the perfect adventure for every type of hiker! What accompanies you on every hike on the Schmittenhöhe? The stunning view of Lake Zell and more than 30 three-thousand-metre summits. The variety of trails – many of them special themed trails – make the Schmitten a true paradise for hikers in the Pinzgau region.
Even if the Schmittenhöhe is considered the "sun child" of the Alps: Inform yourself about the weather ahead of every hike! Then there's nothing stopping you from enjoying an incredible summer on the mountain! And in case the weather isn't quite like it's supposed to be, you can choose from a variety of bad-weather alternatives.

Top hiking tips for your summer holiday in Zell am See
Marvel at the breath-taking mountain and lake views during a summit tour or on the high-altitude trails. Find out more about wild-grown herbs on the Schmittenhöhe. Hike in the footsteps of well-known individuals who have shaped the holiday region or were influenced by it. Do as the Austrian empress did and enjoy the stunning sunrise on the mountain.
As you can see: Hiking isn't just hiking – at least, not on the Schmitten! That becomes especially apparent when you look at the variety of hiking trails in Zell am See-Kaprun. For even more hiking fun, you should have a look at the digital hiking map of Zell am See-Kaprun. What are you waiting for? Let's go! There's so much to discover for hikers of all ages …
The weekly hiking programme of the Schmittenhöhe
You don't know your way around quite that well yet or prefer to hike in a group? Then browse the diverse weekly hiking programme of Zell am See-Kaprun. From Monday to Friday, you can look forward to a different adventurous group excursion every day. Pasture hikes, yoga or yodelling on the mountain: Spice up your summer holiday in the Pinzgau with a guided hike!

By the way: Whether you decide to take part in a guided hike or prefer to go hiking on your own – the summer cable cars and lifts on the Schmittenhöhe quickly and safely take you to the starting point of many hiking trails. Find out more about cable car tickets for the Schmitten!