The Schmittenhöhe for skiers
The ski resort: A dream come true
You're dreaming of a ski resort that's as varied as your interests? A resort that surprises and amazes you time and again? That finetunes every little detail to the needs and requirements of skiers? Then the Schmittenhöhe in Zell am See is the perfect destination for you!
Short and sweet: the ski resort at a glance
77 kilometres of slopes: 30 km of blue (easy), 28 km of red (medium difficulty) and 19 km of black (challenging) slopes
28 cable car and lift facilities including an aerial tram, chairlifts, monocable gondolas, tow lifts and magic carpets for beginners
6 ski resort entry points: Zell am See (cityXpress), Schmittental valley (trassXpress, Schmittenhöhebahn and Sonnalmbahn), Schüttdorf (areitXpress) and, from winter season 2019/2020 on, Viehhofen (Section I of zellamseeXpress)
23 ski huts and mountain restaurants for a little energy boost in between or a sundowner at the end of your ski day
Mountain Adventures on the Schmitten
A few clicks away from your ski pass: online ticket shop 
With the whole family, just the two of you or as a group. For several days or as a day trip. Thanks to the variety of different ski tickets and passes, there's something for every taste. Browse our ticket categories right away and find the right one for you!

Tip: In our online ticket shop, you can conveniently buy your ticket from home. Just select your preferred date(s), enter your personal details and payment method and you're well on your way to Schmitten joy!
Adrenaline junkies and athletic skiers, check this out!
You love challenging yourself? A ski day without an adrenaline rush is out of the question for you? Then consider yourself lucky: The ski resort of Zell am See offers something for everyone. Alongside long descents in the sun, there are numerous highlights that will make your pulse race and get your blood pumping:
Trass descent: one of the longest and steepest black slopes of the Salzburger Land region
Audi Ski Run: this giant slalom course ensures World Cup feeling on the Schmitten
Funslope XXL and Snow Park: … for slope acrobats
Skimovie Track: a giant slalom course where you're recorded on camera and your speed is measured down to a hundredth of a second
Nighslope: for all those for whom a whole day of skiing isn't enough …
Skiline: to track the kilometres and metres in altitude you've covered and much more
Schmitten Action Cup: collect badges and win fantastic prizes!
You can hardly wait? Then get your ski ticket in our online ticket shop right away and visit the sunny ski resort in the Salzburger Land region!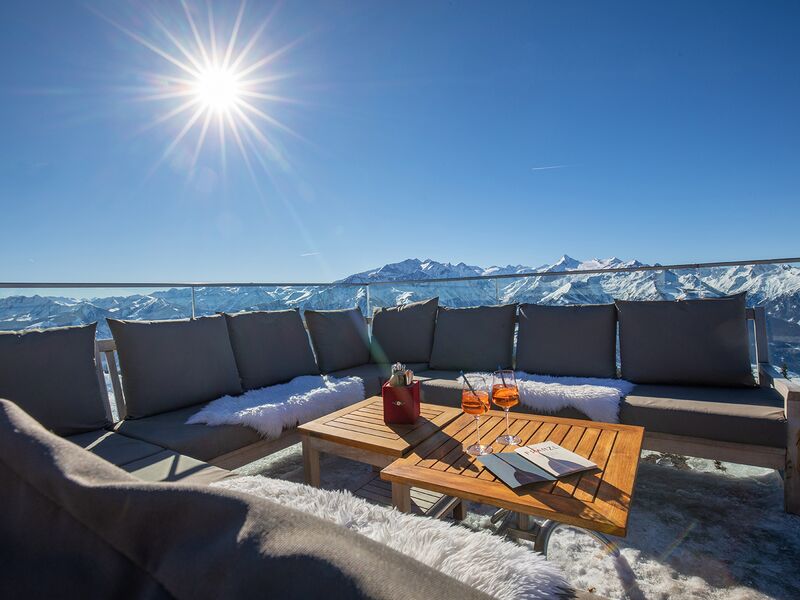 The Schmittenhöhe for pleasure skiers
If one thing is essential for a great day of skiing, it's pleasure! And you'll find plenty of that at the many ski huts and mountain restaurants of the Schmittenhöhe. Whether you're in the mood for deliciously sweet Kaiserschmarrn with Zwetschkenröster or a hearty Bauerngröstl: Take your skis off, find yourself a sunny spot on the spacious sun decks, enjoy the tasty dishes and beverages and let the stunning view of 30 three-thousand-metre summits impress you!
Event tip for pleasure-loving guests: Red Turns – wine tasting at 2,000 metres above sea level
Once every year, the Schmitten turns into a hotspot for vintners and wine fans from all over Austria. Be there when vintners from the Mittelburgenland region present their best wines on the Schmittenhöhe … and taste your way through their selection!
As you can see: Pleasure can be so easy if you spend your ski day on the "sun child" of the Alps …
Here to the huts on the Schmittenhöhe …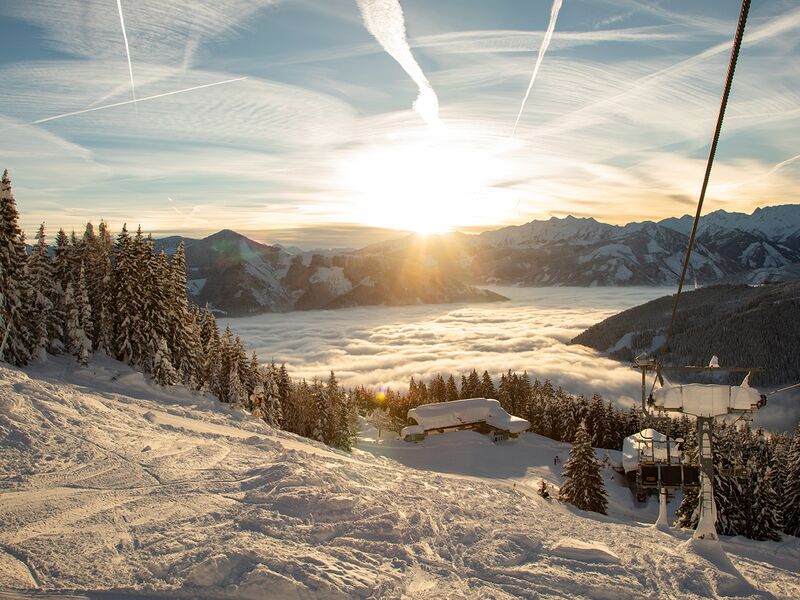 Five good reasons for a ski day on the Schmitten
There are plenty of reasons to visit the Schmittenhöhe with your skis or snowboard. Here are the top five:
1. Long descents – great for children, beginners, passionate skiers and snowboarders.
2. Lots of highlights for little winter sports fans and families looking for their first slope experiences.
3. An incredible variety of descents from the black Trass descent for adrenaline junkies to the Audi Ski Run for race fans.
4. Huts that turn every skiing break into a culinary highlight or a fun après-ski experience.
5. Skiing with lake views: Where else can you swoosh down the mountain with lake views and a panorama of more than 30 three-thousand-metre mountains?
As you can see: The Schmittenhöhe is perfect for passionate skiers as well as families with children. Check out the weather and start planning your next ski day at the Pinzgau's family ski resort!