Snowpark on the Schmittenhöhe
Jumps, jibs and fun
At Schmittenhöhe ski resort in Zell am See-Kaprun, nothing's left to chance! That's why freeskiers and snowboarders can look forward to a number of highlights. One of them is the Snowpark on the Schmitten!
Snowpark in Zell am See-Kaprun
The Snowpark at Schmittenhöhe ski resort is located at 1,715 metres above sea level and awaits winter sports enthusiasts with a stunning view of the surrounding mountains. Jumps with a breath-taking view? Check! A total of 12 obstacles are waiting to be mastered by you!
Facts about the Snowpark on the Schmittenhöhe
location: Hochmaisbahn mountain station at 1,715 metres above sea level
obstacles: 12 – from Funbox to Mushroom Jib
suitable for: beginners and advanced
Conceptualized for every type of skier or snowboarder
The Snowpark on the Schmittenhöhe is divided into two areas – one for beginners and one for advanced. That way, every skier and snowboarder can enjoy their time at the Snowpark to the fullest. Thanks to daily maintenance work by skilled and trained "shapers", the Snowpark is always in tip-top condition.
The Snowpark-Areas at a glace
Beginner Area –
perfect for the first experiences at the Snowpark!
Kickers: 2 m and 4 m, Rainbow Butter Box: 5 m, Funbox: 3 m, Flat Butter Box, Wave Box, Mushroom Jib

Medium Area –
perfect for those who have mastered their first skilful jumps in the Snowpark already!
Kicker: 6 m , Flat Box: 7 m, Curved Box, Cannon Tube: 6.5 m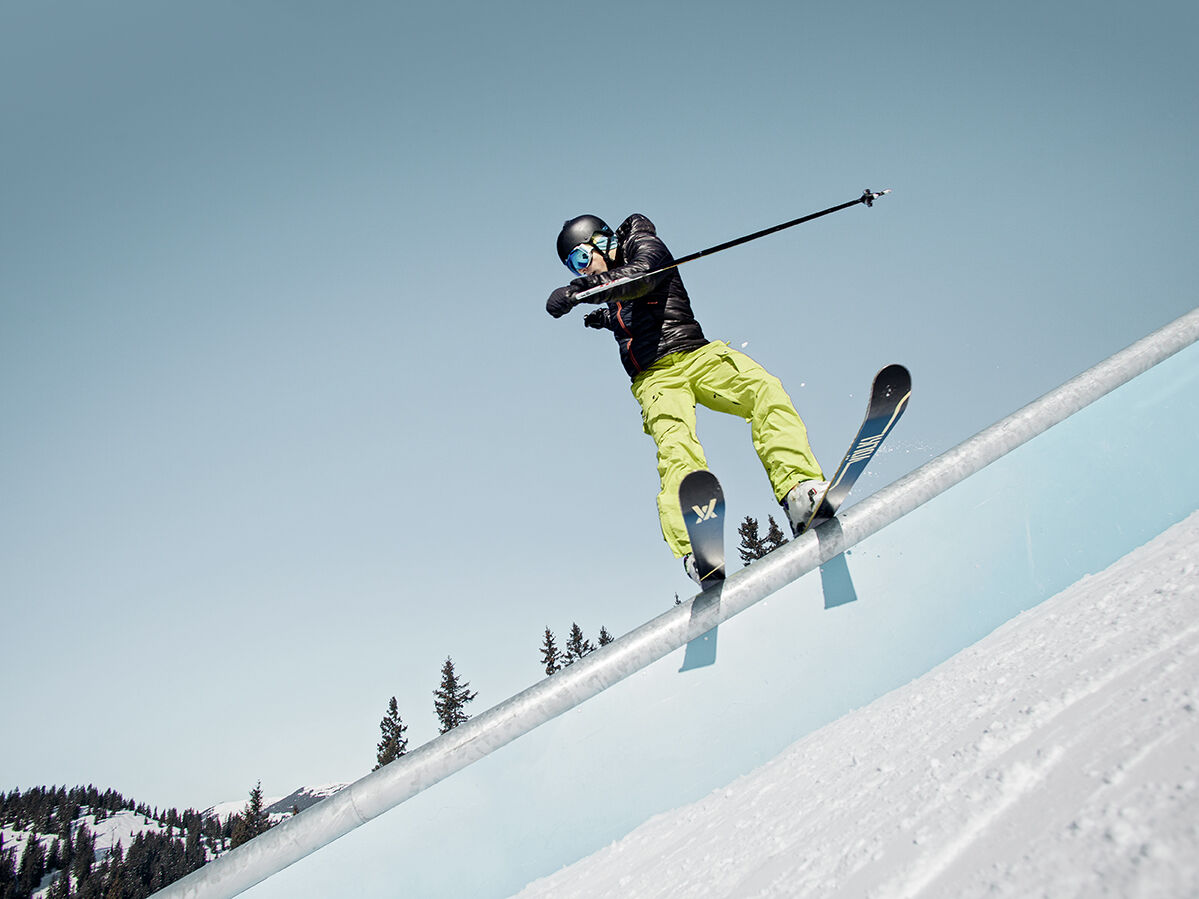 Fine-tune your Snowpark skills
Skier or snowboarder. Beginner or advanced. At the Snowpark on the Schmittenhöhe, every winter sports fan can find the perfect challenge. You'll see! All good things come in threes: That's why the Snowpark is in immediate vicinity of the Funslope XXL and the Skimovie track. You'd like to get even more out of a ski day on the Schmitten? Heed the following inside tips:
The early bird … takes the first cable car: Getting up early isn't always easy. But still: Start your ski day by taking the first cable car. In the early morning hours, the slopes are freshly groomed and the Snowpark is in tip-top condition!
Take a breather: Time for a break at a hut! Culinary delights from the Pinzgau region and incredible views await! All huts at a glance …
Stay longer: If you've got a long journey to the ski resort, it pays to stay the night. That way, you can enjoy your ski day even more. And who knows: Maybe you'll be in the mood for some après-ski at one of the many huts …